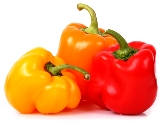 Healthy Eating/Healthy Skin
We all know that eating a diet rich in fruits, vegetables and whole grain is essential for a healthy lifestyle. But what about healthy skin? What you eat has an effect on your skin. A healthy lifestyle benefits you in many ways. Healthy and youthful looking skin is one of those benefits.
Those bright red fruits and vegetable such as tomatoes, ruby red grapefruit, and red bell peppers are vital because of lycopene, an important antioxidant which fight free radicals. Free radicals are said to damage the body's cells including the skin cells.
You still have to consider sun damage when you think about healthy skin. The best way to avoid sun damage is to stay out of the sun. However if you can't do they, you should make sure to eat bright orange and yellow fruits and vegetables. You might ask why? Beta-carotene, form of vitamin A, is the reason. Eating carrots is not only good for your vision but they also contribute to healthy skin and helping you fight against sun damage.