Women Health and Family - feeling good, looking great, enjoying life and loving it.
Women, start your journey today and obtain information about better health, balanced nutrition, the benefits of a fitness routine, family and spiritual enlightenment. As your partner I will share my insight, my personal experiences, and my research. It is no secret that most women lead busy lives and research indicates a healthy lifestyle is essential to look good and feel good.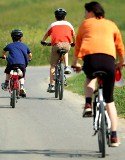 Are you eating nutritional meals, exercising daily, spending quality time with family and friends, and setting aside quiet time for yourself? If you answered no to any of the above, it is time to complete a personal assessment and set a goal. Whether your goal is to look better or to feel better, start today by partnering with me.
What can you expect from this partnership?
Consider the following, research has shown that better nutrition and exercise leads to weight loss and can help reduce the risk of heart disease and breast cancer which are major health concerns for women. One way to achieve better nutrition is by choosing the right breakfast foods and by cooking nutritional meals that are made from delicious easy healthy recipes. Better condition of body, mind and soul has a domino effect, less stress, more energy, feeling better, and better self awareness.
My journey for a healthy lifestyle started after a diagnosis of obesity, premenstrual dysphoric disorder (PMDD), and pre-diabetes. That was a major wake up call. The doctor's recommendation was simple, an exercise and fitness program for toning, improved muscle mass, strong bones and weight control and proper nutrition for essential vitamins and nutrients. The journey started with baby steps, determination and a commitment not to look back.
Whether you have small tweaks or large changes to make, set a goal, outline a plan and get started. My plan includes slow progressive weight loss , a consistent fitness program, and spiritual growth. I have had a hiccup along the way, severe food allergies. It amazing how things are not always what they seem to be.
However, this is not about me; this is about you setting your goal, outlining a plan and following through. I want to join you and congratulate you on deciding to embark on this new journey to look and feel good..
Check out Women N.E.W.S.Blog for tips on nutrition, exercise, wellness (personal and family) and spiritual growth. Find out more at www.women-health-and-family-tips.com Subscribe here.
Check this out, easy, no hassle women nutritional tips to achieve a healthy lifestyle.
Breakfast foods should be at the top of your shopping list each week
Simple is usually the best and the same applies to cooking. Try these easy healthy recipes and start to enjoy home cooking again with no guilt.
The USDA has updated the food pyramid diagram is not longer stacked making one group more important than the other.
Food allergies that may be hidden or yet to be diagnosed.
Find out how to have a fun, creative, effective and successful women fitness program for better health.
Get information on how exercise & nutrition can be preventive measures when it comes to women health concerns such as breast cancer and heart disease.
It is time for women to recognize the importance of an annual check up for a healthy body, soul and mind.
This is a journey to help achieve a healthy soul and experience joy. You will learn to experience life in a new light. Get started now on the Women Christian Journey.
Get some valuable tips on dealing with everyday family situations whether it's dealing with your husband or child.
Find out how you can solve the mystery about your husband's love language and improve your marriage.
Take a moment to find out how you can achieve a healthy lifestyle and why I want to partner with you along this journey.
Newsletter for women with information on nutrition, exercise, wellness and spiritual growth.
Contact us page for Women Health and Family Tips
Sitemap for Women Health and Family Tips.
disclaimer
With a lot of passion, some hard work you can reap big rewards.
Would you like to share your knowledge about women? Great, find out how you can submit your story or tip here.