A Personal Journey
Why did I start this website? I want to share my information with other women. I want to help women who may be trying to make a lifestyle change or assist women who are trying to stay motivated to continue with their lifestyle change.
I want to share my successes and failures with you. As I traveled along my path, what I learned is it's not about following a diet program, but it's about making a complete change that last a lifetime. Hence, the journey started for a "me" makeover.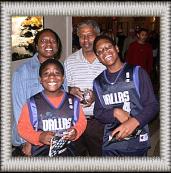 It's wise to start with a partnership with your doctor. I did and then I made a commitment, spent time doing research, worked with a trainer, and started along my journey to success. If you have a family, make it a priority to convince the family to make this change with you it easier for preparing meals and more cost effective.
Focus
The focus is not just nutrition or exercise; it's combining both for a healthier you. It's not just about weight loss but about making good choices. It's about finding out what works to help you achieve your goal. Find out what might be a hindrance for you. One of mine is that I get bored easily standing in one place walking or walking in circles, so I change my workout routine frequently to stay motivated. You need to periodically evaluate your routine and change it to get the maximum benefits. I work out in the morning during winter and in the afternoon during summer. It works for me.
Challenge
When it comes to eating, that's another challenge. The challenge is to make good decisions about what you put in your body. My challenge is at the office we have very generous vendors that keep us supplied with all kinds of snacks. My strategy to get past those "sweet nothings" is to bring my own healthy snacks and avoid the break room in the afternoon hours. It's important to know what might be a hindrance to your progress.
Remember you will encounter different obstacles along the journey but the key is to stick with your plan and keep your goal in mind, healthy lifestyle, a healthier you. It takes a commitment from you.. You can do it!
Rewards
Weight loss, improved health, less stress and a balanced family life is what you can expect. My family is my support group and cheerleaders. I don't feel deprived but I feel blessed that I have embarked on this journey.
I started this website as a way to share my insight with women, with you. SBI gave me the tools to do that. They provided the technical expertise. They made it easy for me develop this website to share tips on how you can make a lifestyle change
---
Women Health and Family Tips Mission Statement
To provide quality information and useful tips to help women achieve a healthy lifestyle. I am very passionate about women health and wellness. I hope my passion leads to success for you.
---
Please feel free to contact us and share your thoughts, your comments , your successes, questions or suggestions. We are here to help you along your journey.
---
---
Return to Homepage From About Us