Fast Food Nutrition Facts for Breakfast Foods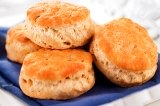 When it comes to breakfast and fast food, the fast food nutrition facts tell all. The food is loaded with calories that are derived from fat, carbohydrates and sugar. Don't forget the sodium content in each item. Healthy eating suffers when fast food is the solution. Your first meal of the day shouldn't be fat and sugar, leaving you quickly looking for a snack.

Burger King Nutrition Facts
Burger King's breakfast menu includes biscuit, biscuit with sausage, biscuit with sausage egg and cheese, French toast sticks and large hash browns.
My favorite was the French toast sticks until I found out those 5 little pieces of bread was 390 calories which 180 was derived from fat and included 46 grams of carbs, no good carbs and 440 mg of sodium.
One plain biscuit from Burger King boost 300 calories, 140 from fat and 35 grams of carbs and 830 mg of sodium.
You think that hash browns would be better. The large hash browns have 390 calories, 230 from fat, 38 grams of carbs, and 760 mg of sodium.
McDonalds Nutrition Facts
McDonalds' breakfast menu is a little more extensive.
My husband's favorite is the hotcakes and sausage, 770 calories, 300 from fat, 104 grams of carbs and 35 grams of sugar and 930 mg of sodium.
My kids like the hash browns and usually eat 3. One hash brown is 140 calories, 70 from fat and 15 grams of carb. McDonalds' biscuit is 240 calories, 100 from fat and 31 grams of carbs.
The famous Egg Mcmuffin, is 290 calories, 100 from fat and 30 grams of carbs, 850 mg of sodium. On the surface that doesn't sound bad until you pile the jelly on it and one grape jelly is 35 calories.
Okay the burrito is no better. One sausage burrito is 300 calories and 140 from fat, 26 grams of carbs and 760 mg of sodium.
Krispy Crème Donuts Nutrition Facts
One Krispy Crème donut packs 200 calories, 100 grams from fat, 2 grams of carbs and 10 grams of sugar.
On chocolate covered donut has 250 calories, 110 from fat, 33 grams of carbs and 21 grams of sugar.
Chick-Fil-A Nutrition Facts
Chicken right, how bad can it be. Take a look at this.
The chicken minis (3) are 260 calories, 90 from fat, 30 grams of carbs and 6 grams of sugars along with 650 mg of sodium.
The chicken biscuit has 450 calories, 180 from fat, 48 grams of carbs and 1310 mg of sodium.
The chicken breakfast burrito has 440 calories, 170 from fat, 43 grams of carbs and 960mg of sodium.
Chick-Fil-A win the prize for most calories in a biscuit. One biscuit has 320 calories, 120 from fat, 41 grams of carbs and 700 mg of sodium.
After looking at these fast food nutrition facts, I think you get the picture. To start your morning off going through the drive thru is not smart or healthy. Regardless of the ads, the numbers above tells the real story. You should make it a practice of checking the fast food nutrition facts of your favorite drive thru.
---
Return to Breakfast Foods from Fast Food Nutrition Facts