Grapefruit Nutrition and your Healthy Lifestyle
It's time to get familiar with grapefruit nutrition facts. This fruit is great for breakfast and can be easily added to salads.
Grapefruits are loaded with
dietary fiber
potassium
magnesium
niacin
thiamin
Vitamin B6
The ruby red and pink has additional benefits. They contain lycopene which is known to contain antioxidants. One 8 ounce glass of grapefruit juice or ½ grapefruit provides 100% of daily requirement of Vitamin C. Vitamin C is known to help support the immune system and fight cell damage in the body which might lead to disease.
One grapefruit provides 4g dietary fiber and below are additional grapefruit facts:
fat-free
cholesterol free
provides calcium
sodium free
naturally sweet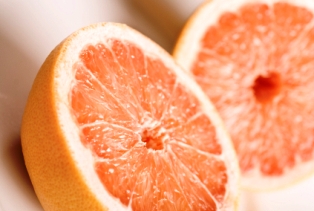 The harvest season starts in October and they are readily plentiful this time of year. Run out and pick some up today.
---
Return to Women Nutritional Tips from Grapefruit Nutrition