Quick Breakfast Recipes
---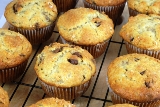 ---
These nutrition easy breakfast recipes will start any morning off right. Since breakfast is the first and most important meal of the day, it naturally should start off as the healthiest meal of the day. Breakfast can be easy and still be fun. All it takes is 15 minutes and no eating breakfast in the car or from the drive through.
On the days you decide to sleep in, you can turn that breakfast into a great brunch with some easy brunch recipes. The food is never short on taste but it's short on prep time and very rewarding.
Breakfast doesn't have to be toast and coffee, or cereal and juice.
It can be
---
Return to Breakfast Food from Breakfast Recipes
---